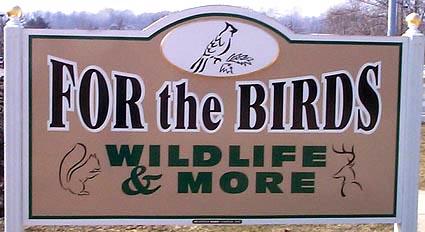 For The Birds Wildlife and More is a family owned and operated business. Husband and wife, Steve and Helen have a passion for the outdoors and nature. Steve and Helen also personally put to use many of the items they sell to test them to make sure they perform as expected (see photos).
Steve was raised in the country on a large parcel of land his grandmother had purchased while working during W.W.II. The woods quickly became his favorite playground and place to explore. It was also a place where at an early age he showed a great appreciation of nature. Helen was raised in a suburban neighborhood and always dreamed of living in the country. Helen found her opportunity to move to the country and had a small farm in north east Ohio. She raised rabbits, pigs, chickens and horses and lovedthe lifestyle. When Steve and Helen met they agreed they needed more room and wanted to move out further into the country.
They now reside on a 100 acre farm which is the test site for many of their products. They have over 20 nesting boxes for many species including screech owls, kestrels, bluebirds, tree swallows, purple martins, chickadees, woodpeckers and more (see photos). The property is diverse and lets them observe many different species of birds and wildlife. Their living room has three pair of binoculars and a spotting scope at the ready (go to optics). Their property has a large ravine and creek, hardwood forests, hemlock forests, meadows, ponds and young woodlands as well. With their love for nature and wildlife Steve and Helen decided that a wild bird feeding and wildlife store was what they wanted to own and operate after selling their home improvement company.
For The Birds Wildlife and More, Inc., is not a franchise. Steve and Helen wanted to maintain complete control over the company and felt a franchise would limit their ability to provide what customers really want and would also limit their ability on keeping costs down for the customers. Steve and Helen put the store together themselves and it continues to grow today.
The store carries a large selection of bird feeders, nesting boxes, hummingbird feeders, oriole feeders, suet and suet feeders, deer and turkey feeders, bird baths, waterfall rocks, gift items, optics, hooks and poles, bird kites as well as books and CD's (take a tour of the store). You can find just about any type of wild bird feed from peanuts in or out of the shell to fruit and nut mix! Sunflower, black oil and striped, woodpecker chickadee mix, sunflower kernels, safflower, nyjer, finch feast, cardinal chickadee blend, cracked corn, whole corn, ear corn, deer corn, squirrel food and even critter snack! You won't find bird feed mixes that birds shovel to the ground either. Our mixes don't contain "fillers" that birds just don't eat, like those you may find in a grocery or big box store. One of our bird feed lines was developed by naturalist Dr. Scott Shalaway. Each Sun Country Farms bag says it all, "no waste, no filler, just great food!" Whether you order from our online store or visit us in beautiful downtown Chardon of Geauga County Ohio, you'll be assured of quality products, service and knowledge that is hard to find these days. We will even carry your products to your car for you!